2t Single Girder Overhead Crane
Our Overhead Crane is a revolutionary creation with unparalleled performance, light weight, maximum safety and reliability, and high operating efficiency, all encompassed in a compact design.
Due to the magnificent attributes of our crane which can hardly found in any of its contemporaries, many world-renowned enterprises have learned to rely on us for innovative design solutions. These companies include Hitachi, Kobelco, General Motors, Gamesa, Barrick Gold, Vallourec & Mannesmann Tube, Sandvik, 3M, Sany, and Xugong.
At Eurocrane, quality is our first priority. Concentrating on solving customer concerns while maintaining a stable business operation helps with our ability to provide customers with consistently good-quality, safe and reliable products. Our final aim is to make material handing easier and create values for customers in the long run.
When designing and manufacturing the crane, we keep one thing in mind. Crane problems and subsequent repair create downtime and downtime causes immeasurable loss to customers. With the consistent good quality, Eurocrane product is sure to become your preferred choice in material handing industry. Following is a list of its main advantages.
Advanced Technology and Dependable Performance
As a pioneer in the manufacture of European cranes, we have the first-row view of the valued expertise and advanced manufacturing techniques used in crane manufacturing industry. Rome wasn`t built in a day however, and the process of innovation at Eurocrane has been long. Each product has been rigorously tested before it can be launched onto the market. Hence customers can purchase with confidence. The aim of our product is to help customers improve productivity, lower equipment maintenance cost, extend equipment use life, maximize return on the investment, and create more value for customers.
Compact Structure and Modular Design for Optimized Customer Investment
In its compact body, the overhead crane house many houses many desirable attributes such as even load distribution, light weight, and minimum stress on the rail. It is designed to decrease construction cost and create ease of maintenance. Compared with other domestic cranes, our overhead crane allows for 10% to 15% decrease in its dimension according to the loads that it handles. The heavier the load is, the more decrease the crane allows in its dimension. In this way, customer comprehensive investment is optimized and rewarded with high rate of return.
Environmentally Sustainable Design for Space and Energy Saving
The compact design of our overhead crane leaves mores space for industrial operation. All its components are sturdy and long-lasting, requiring limited maintenance. Reduction in weight and wheel stress leads to decreased energy consumption. It also lowers the level of requirements on raw materials during its manufacturing process.
Safe, Reliable, and Easy-maintain
With leading manufacturing techniques, state-of-the-art manufacturing facilities, integrated production line and strict control and assurance system, we are sure to design and produce premium-quality overhead cranes with exceptional performance. The concept of [easy-to-maintenance" is also incorporated into our design to ensure the final product possesses competitive edges over others of its contemporaries while allowing easy repair and operation.
More Configurations and Options to Suit Your Needs
Our overhead crane can be supplied with various configurations to cover a wide range of lifting capacities, ranging from 8t to over 500t. Other options such as the turn over hoist, anti-sway device, automatic positioning device, winch servicing and monitoring device, or remote diagnostic tool are available as well. We also provide personalized, professional solutions to customers with our experience and advanced techniques.
Packaging & Shipping
Package: Electric Hoist and electricals are packaged by high quality plywood case; main girder, handrail and Crane Rail are packaged by plastic woven cloth.
Delivery: According to customer`s requirements
Port:
Shanghai port by Containers or according to customer`s requirement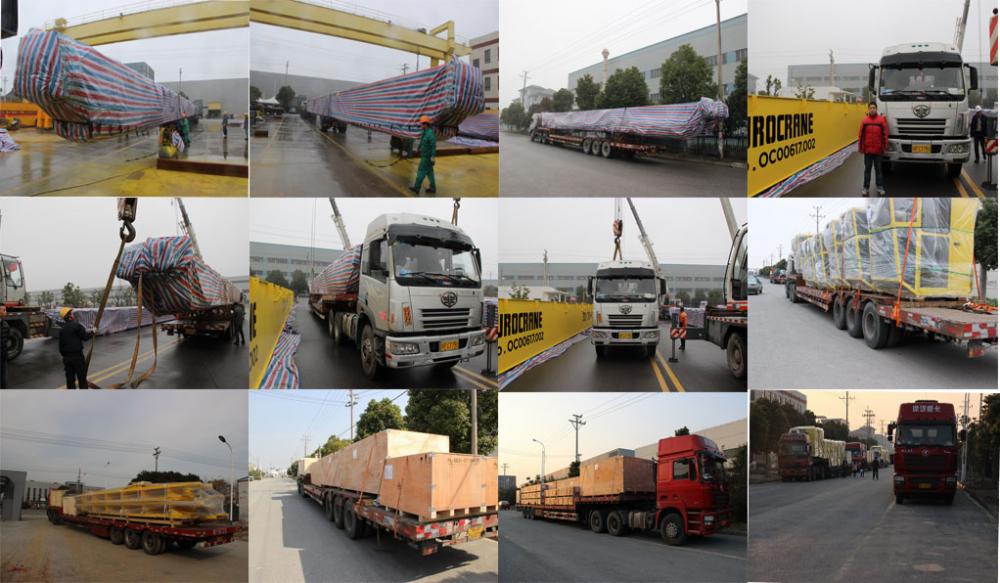 Company Information
Eurocrane (China) Co., Ltd. is a world-leading manufacturer and service provider of cranes and material handling equipment. We recruit experienced, passionate employees with an aim to create a winning environment for product research and development. By serving customers with our heart, we ensure a thorough understanding of their needs before working out a suitable product design, solution and service tailored to their specifications. At Eurocrane, we make every effort to help customers to succeed in the long run. Our joint dedication has become, is and will continue to act as the catalyst behind the constant advances in crane and material handling equipment industry.